Mood of the week: tired.  After going to my first ever interview last Monday (which went alright, but I didn't get the job because youth employment laws don't allow me to work the hours the employer needed), and teaching creative writing to a class of nine rowdy eight-year-olds (one word: LOUD), I'm pooped.  To recuperate, I'm binge-watching Stranger Things and Youtube.  And also worrying about how stressed I'm going to be once school starts, if this level of activity is already frying my brains.
On the bright side, I volunteered at a local Mardis-Gras-themed festival yesterday, which was quite a fun experience.  One thing I've learned: helping children make crafts is really just an excuse to cover yourself in stickers.  Plus, I finished reading Finding Audrey by Sophie Kinsella, a novel about a young girl dealing with mental illness, written by one of my all-time favourite comedic writers.  (Comedy and mental illness don't sound complementary, but Sophie Kinsella makes it work.)  Since I'm working on a piece about social anxiety myself, Finding Audrey was very eye-opening and helpful as well as entertaining.
Speaking of books, that is the topic of today's blog post.  I've decided to compile a list of a few of my top favourite YA (Young Adult) authors.  Since spoilers suck, I've written a few notes about the authors without revealing the plots of any of their works.  Welcome to: YA Authors to Read (Spoiler-Free).
---
Rainbow Rowell
Genre: Contemporary fiction, Fantasy fiction, Romance 
'Reminded me not just what it's like to be young and in love with a girl, but also what it's like to be young and in love with a book.'
-John Green about Eleanor & Park by Rainbow Rowell
Rainbow Rowell is a master at writing romance, and then artfully weaving it into the larger overarching plot of the story.  The dialogue is witty, funny, and realistic; the characters are lovable and relatable; the plots are clever; and most of all, the darned romance will make you scream and cry and writhe on the ground (in joy, or anguish, or both).  Rowell brings an element of the extraordinary to ordinary lives, painting finely detailed portraits of everyday existence that will tug on your heartstrings and keep your eyes fixated to the page.
My Rating: 9/10
---
Marie Lu
Genre: Science fiction, Dystopian fiction
'Another dystopian science-fiction adventure featuring talented kids on the run, LEGEND has a crisp set-up and a stylish execution.'
-Common Sense Media
Action, suspense, outstanding characters, brilliance, and a touch of romance.  What more could you ask for?  In Marie Lu's debut series, Legend, she showed her aptitude by establishing two strong, unique protagonists, a twisting, fascinating plot that keeps readers perpetually on edge, and an exquisite writing style.  She takes quite a different approach in The Young Elites series (which is still awaiting its final installment) by stepping into the headspace of a much darker, crueler character.  No matter the dramaticism of the plot, ideas, and theme, Lu's writing is never pretentious, and always compelling.
My Rating: 8.4/10
---
Laurie Halse Anderson
Genre: Contemporary fiction, Historical fiction
'The plot is gripping and the characters are powerfully drawn, but it is its raw and unvarnished look at the dynamics of the high school experience that makes this a novel that will be hard for readers to forget.'
-Kirkus Review about Speak by Laurie Halse Anderson
Anderson's books are one of my go-to's whenever I'm asked for reading suggestions.  Many awards and much praise for her work have been given, including National Book Award Finalist medals for Chains and Speak.   She consistently creates top-notch, moving, expertly crafted novels.  The dialogue, plot, and themes always ring true, and each story will resonate in your mind for days.  Not once will you read any cheesy cliches- more than anything, the books are truthful, honest to the point of grittiness- and it is so refreshing.  She has written fictional accounts of heavy things, such as mental disorders like anorexia and PTSD, death, criminal charges, rape, and slavery.
My Rating: 8.9/10
---
Sarah Elizabeth Schantz
Genre: Contemporary  (She has currently released one novel, called Fig)
'Somehow both lyrical and searing.  Fig portrays all the fear and confusion and loneliness of living with an unstable parent.  And yet, this book offers a redemption that is as honest as it is believable.  A remarkable debut.' 
-Patricia McCormick, two-time National Book Award Finalist for Sold and Never Fall Down.
With beautiful and fluid language, Sarah Elizabeth Schantz has written a narrative that follows a young girl from age six to nineteen.  But this is not your typical coming-of-age novel.  The protagonist's mother suffers from schizophrenia, and attempts suicide within the first few chapters of the book.  From then on spins an unforgettable tale of familial love and loyalty, sacrifice, and the destructiveness of mental illness.  Along with the struggles of growing older, Fig has to deal with her mother's unstable presence in her life.  Heart-wrenching, mesmerizing, and introspective, Fig (and the young protagonist of the same name) will steal your breath away.
---
Hey there!
I usually reserve music suggestions for Spotlight (here's May, June, and July), but this Blurryface mashup is drastically improving my mood right now.  Anywho, if you read through this entire blog post, thank you so much!  I'm sorry if it sounds a bit jumpy and disorganized, as that's just the state of my brain right now.  Not only does summer deprive me of social activity, it also hinders my ability to stay on a train of thought for more than a few seconds.  That said, summer's not all that bad.  Sleeping in is great, having no homework is great, and watching the Olympics is great.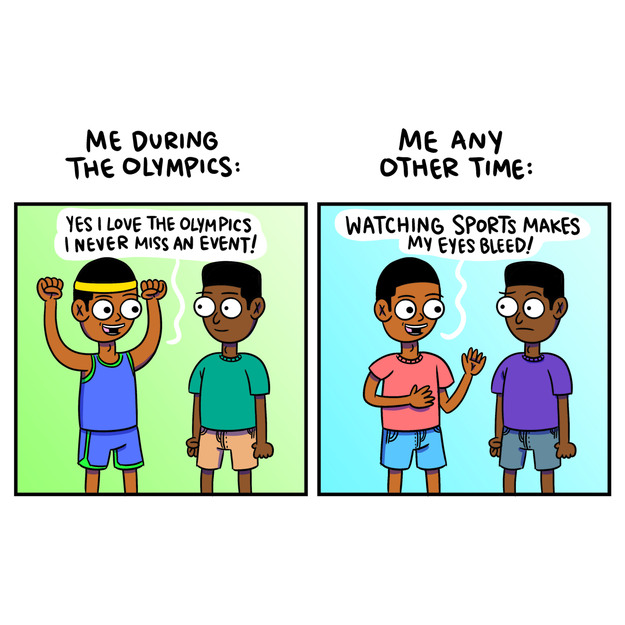 Source: https://www.buzzfeed.com/maritsapatrinos/comics-for-anyone-who-loves-the-olympics?utm_term=.hpEkrWMwJ4#.tjwl9XQy7J
What books have you been reading over the summer?  Feel free to leave me a comment!  If you liked this blog post, please give it a like and follow me for more content (and let's be real, why wouldn't you want to listen to the ramblings, thoughts, and tips of a girl who has the attention span of a toddler and uses parentheses overzealously?).
Thank you so much for reading!
-Yi Nuo